Typewriter Killer: PreprintedFORM Filler Software Replacing Typewriter for Form Filling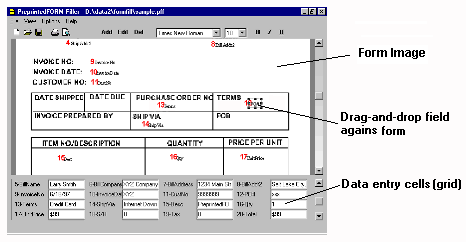 Typewriter Killer: The Software Replacing Typewriter for Pre-printed Form Filling
PreprintedFORM Filler is a software program that replaces typewriters for filling-out pre-printed forms. The software allows you to visually fill out a pre-printed form and print it without using a typewriter--- That is, you first use a scanner to get a scanned form (image) of your pre-printed form, then import the scanned form into the program, visually fill out the form and print it. The software helps you to increase productivity over manual typewriter.

Features of the Typewriter Killer Software

The typewriter killer software program displays the scanned form in the top window and a spreadsheet-like grid table below.

The typewriter killer software allows you to define data fields by drag-and-drop onto the form, and the corresponding data entry fields (grid cells) are automatically created in the grid. Each data entry field (grid cell) can be individually labeled for easy identification.

The typewriter killer software allows you to tab-and-type information in the bottom grid for fast data entry. If needed, the grid will be automatically scrolled as you type. You do not need to use the mouse to scroll the grid or navigate to a grid cell.

System Requirements
- Windows 95 or later
- 486DX-66MHz PC or better
- 16 MB RAM
- 5 MB free disk space
- Mouse

What else Do I need in addition to a PC?
Before you can use the typewriter killer software for filling out a preprinted form, you need a digital image of your pre-printed form in .BMP or .JPG format. To get the digital image, you can use a scanner. To print the fill-out form, you need a printer.

Price: One-time charge: $99


Free Trial Copy for The Typewriter Killer Software
To see and test out PreprintedFORM Filler typewriter killer software, please download the fully functional trial copy below.
Free Download (formfiller_trial.exe) (1.8MB, approx. 12 minutes to download on a 28.8 modem)